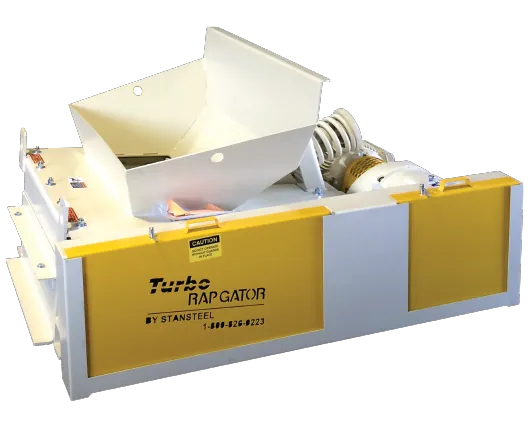 Get the ultimate recycling tool.
The Turbo RAP Gator sizes material to your specs. Shatters phone book size millings down to one inch or less giving you 250 TPH of spec material without plugging, or giving you baseball size chunks or hard compressed material. It maintains your specified milling size by ripping materials that have stuck together.
Even settled RAP piles are shattered and broken. Large chunks don't float on top. Its hardened steel teeth, with chrome-carbide plated tips, devour 40 pound chunks with ease. It can save your season by rejecting scrap metal and large stones that foul equipment downstream.
It improves heat transfer by generating consistently finer material. You save energy and reduce the temperature of exhaust gas that feeds into the baghouse or wet collector.
Portable or stationary, batch plant or drum mixer, the Turbo RAP Gator makes RAP and RAS more profitable than ever before. It can be installed with an entire Stansteel/Hotmix Parts recycle system, or it will retrofit to your existing RAP system.
Avoids wasting the valuable Liquid AC in RAP & RAS
No carryover into the heating/drying/mixing process
Transfers heat better to the RAP material
Reduces the millings stuck together on the screen deck
Eliminates the clogging and sticking of materials