This accounting team now loves counting more than just beans!

One of the reasons that the accounting department for one of our larger, multi-plant customers used to dread assembling their month-end inventory reports was due to the hassle involved with requesting and gathering the liquid A.C. tank levels from their multiple plants.
At the end of every month, the accounting team had to request from busy plant personnel each of their estimated tank levels. Requesting, approximating, and tracking the AC inventory for dozens of hot mix plants became a daunting task each and every month for these plant teams and their accounting staff.  This real challenge of information flow often created a delay in their end-of-month book closings – the negative impact of which compounded into other aspects of this large businesses' finances. As good fortune would have it, they found a better way!
The Tank Tracker app allows you to monitor specific operations of your plant on the go.
When a few of their plants began experiencing first-hand the multiple benefits of remotely tracking AC tank levels using Stansteel's Tank Tracker app, the accounting team's former inventory problems promptly melted away. Through simple online access to accurate tank levels at their multiple plants, their days of chasing down and repeatedly bothering plant operators to calculate tank-stick approximations of crucial information ended with relief and appreciation by everyone affected.
While sitting at their desk, the accounting staff now easily accesses the information they need, when they need it, all in one quick step without numerous phone calls to the plant. This significant improvement for the accounting team, in turn, enables plant personnel to continue focusing on their primary role of safe and efficient plant operation (and not bean-counting or struggling with stuck paddles or cables). Both teams breathe sighs of relief.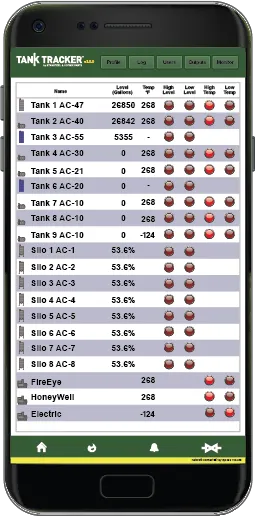 As word spread throughout this company, dozens more of their plants ordered and began enjoying the profound benefits of our Tank Tracker app (and related Tank Manager system). Do you think their happy Accounting Department had something to do with the enthusiastic popularity of our true solution? Do you think they helped their plant superintendents find and allocate the funds for such innovative tools with obviously high return on investment?
Monitor All Plant Vitals Remotely at a Glance.
Being one of the powerful tools in our comprehensive Tank Management System, the Tank Tracker app plays the specific role of allowing your team to accurately monitor the status, temperatures and levels in your AC tanks AND hot mix silos. Plus it allows you to monitor all those vitals remotely (on any smartphone), in real-time and hassle-free!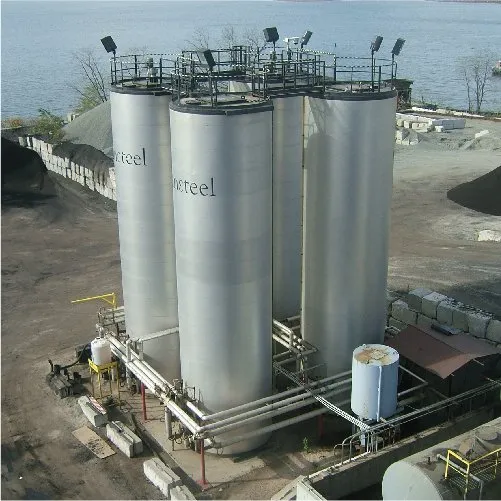 Save Your Company Time and Money With the Tank Tracker app.
Configure specific values for each tank. Monitor the current capacity, temperature, and levels for individual tanks.
Set alarms for individual tanks, so you know the moment your levels are off and how to fix them.
View all current and previous alarms, and when they were added to the log file. Active alarms are highlighted in red.
With such timely and accurate information, your plant operators and accounting teams can also experience significantly increased efficiency by:
Remotely tracking and managing your A.C. and hot mix inventories
Dispatching trucks based on actual silo levels
Avoiding wasted trips by AC unloading trucks
Preventing injuries and expenses related to spills and overflows
Working seamlessly with our Accu-Level device and Tank Manager system, your accounting team (and plant personnel) will also love the powerful benefits of the Tank Tracker. So you can bet that they'll help to justify the worthy investment into your company's efficiency and profitability. To explore more specifics of these innovative tools (including a video overview), visit our controls e-brochure here. And contact us soon to begin reaping the same benefits.