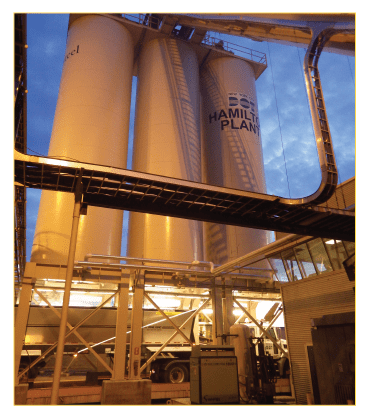 If you're shopping silo systems to beat high trucking costs or boost plant output, get a quote from Stansteel.
We give you the world's most complete selection, offering incredible values in new equipment or upgrades for your old equipment to perform like new.
Get matchless value on any type and size silo…from a 100 ton portable or a small surge unit, to multiple silo systems up to 350 tons each. We also offer new and reconditioned drag slat conveyors, silos, batchers and auxiliary conveyors.
Need additional capacity? Stansteel has a proven track record of custom engineering new silos to be retrofitted alongside existing silos. The additions are often indistinguishable in appearance from existing silos, the difference being the superior design and engineering that went into the creation of the new high efficiency silo. In the event that an existing silo system requires additional capacity, Hotmix Parts/Stansteel will measure the silo, survey it for structural integrity and make specified additions.
Experience Silo Wear Issues?
Line your silo with pre-engineered cone liners!
Silo cone wear can be not only costly, but extreme wear can prove catastrophic. A worn out silo cone can collapse onto equipment, trucks, or operators below. Stansteel® has developed a wide range of liners from high abrasion resistant steel to Everlast ceramic. The structural integrity of the silo is protected to give many more years of SAFE service. Virtually any silo can benefit from a hardened liner installation, and we can supply the pre-engineered liners for field installation by plant personnel. Technical assistance is just a phone call away.