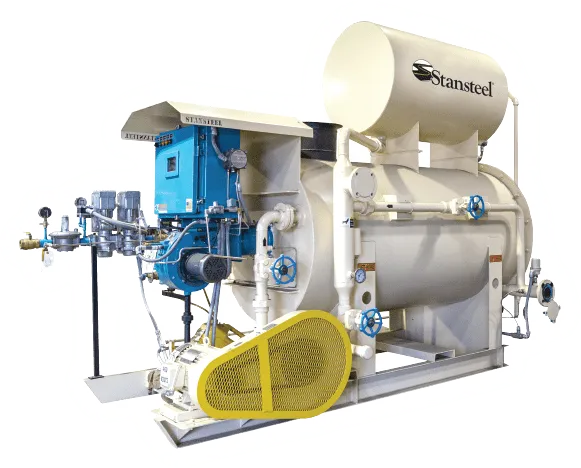 Hot Oil Heaters supply super heated oil throughout the asphalt plant
It is the superior alternative to an old-style chamber or direct-fired heaters. Designed with efficient sections of coil, the Hot Oil Heat Exchanger provides up to 200% more surface area than convection heaters.
Return oil from the asphalt plant enters the system through an air/oil separator that feeds the positive displacement pump. The Hot Oil Heat Exchanger is available as a standard in units rated at 500,000 to 4 million BTUs. Custom designed heaters are available for up to 85 million BTU for A.C. tank farms, A.C. terminals, or other specialty heating requirements.
As the need for storage of more grades of liquid A.C. has become a reality, the need for increased heater capacity and flexibility has increased. The very efficient Hot Oil Heat Exchanger is custom sized for each plant application.
Key Features
1.0 – 3.0 Webster Burner to maximize efficiency for any size plant
2" Helical Coils for optimal mixing and heating
100 GPM Flow Rate
Natural Gas/ No. 2 Fuel Oil/ Propane
3/16" thick Carbon Steel Shell
Full Modulating Control Motor
Remote Restart with purchase of The NiteOwl Plant Alert System
Expansion Tank fluid level sight glass, low-level safety switch
Optional increased capacity expansion tank
Burner can accommodate applications ranging from a minimum of 1.0 MBTU to a maximum of 3.0 MBTU to maximize the efficiency of your plant
Integral Hot Oil Heater piping is "plug and play" style for upgrades such as the stack economizer and smart heater
Positive Displacement Pump is interchangeable with an Optional Centrifugal Pump package
Pressure differential system to assure fluid flow
24/7 operation timer