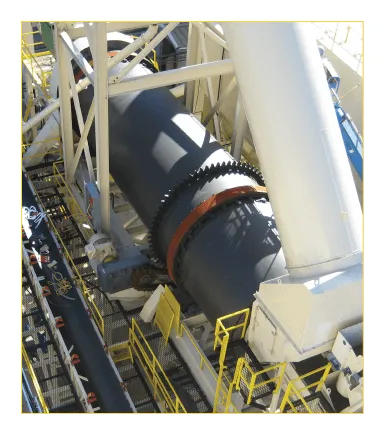 We can custom build a drum mixer/dryer/replacement shell to any specification.
Did you just purchase a used plant? We can even create a dryer or drum to fit your existing frames.
In conjunction with our affiliate companies Louisville Dryer Company, Vulcan Ironworks, and Industrial Kiln & Dryer, Stansteel has built over 5,000 rotary heating, drying, cooling and mixing devices in over the last 100+ years. It is without question one of the most critical and important pieces of machinery on any hotmix asphalt plant. In evaluating the specific customer requirements, whether it's on a high production counterflow drum mixer, a batch plant or a rotary device that is attached to some other equipment, it is mandatory that a number of factors have to be taken into consideration for the proper engineering design, the application know-how, and the precision fabrication of both the internals and the externals.
Please remember that an average rotating drying unit on most asphalt plants will experience over 1,000,000 revolutions in a year. The revolving process of this heavy piece of machinery with varying loads of materials, with varying temperatures and conditions, needs to be well thought out, well engineered in order to give an acceptable service and life cycle. We do not recommend or manufacture throw-away type drying units. Whether it is a replacement shell, an all-new counterflow dryer or one of the highest production drum mixing plants on the market today, we study and evaluate the conditions and build extremely heavy duty and rugged components throughout.
In looking at the externals of the heating and drying units, we evaluate the following items:
The type of positive drive system that the unit will have and the evaluation if it needs to start under heavy loaded conditions. We design these rugged motor drive and the drive engagements on the system so as to have both duty and safety factor in the start-up considerations.
In setting up the circumferential tires and trunnions, we analyze both the thermal heat gradient as well as the total live- and dead-load of the equipment in order to determine bearings and shaft sizes, trunnion diameters and the hardness of all the components to again give extended service life.
The seal system on the unit is also examined and the proper seal is selected based on the temperature that it must withstand as well as providing a flexible steel to help prevent any outside air or oxygen leaking into the system, therefore, reducing the efficiency.
When it comes to the internals of the heating, drying or mixing equipment, many items are thoroughly engineered and evaluated. Just a few include:
If it is a counterflow arrangement, what type of burner; if it's a long nosed extended burner then what type of combustion air is provided, either a 100% air type or an open style unit.
The type of fuel is important based on how it can affect the flighting and also the high level of temperatures that occur when a heavy fuel is used or if a more pencil or extended flame is present on certain gas burning units. We often put extra heavy duty flighting in the combustion area to allow maximum thermal transfer and prevent any materials from being carried around the circumference of the drying unit and impinging upon flame thereby increasing fuel usage and degrading the quality of the combustion in this zone. A series of lifting flights, veiling flights and mixing flights are configured depending upon what type of unit and application is being considered. In recent years, we've added recycle collars and bringing in other materials in different places in the drum mixers so as to blend RAP material in with the other ingredients.
Stansteel makes all types of replacement shells and upgrade packages for existing dryers. It's very common in recent years to both replace antiquated designs of counterflow drum mixers as well as to update and convert from a parallel flow drum mixer to a counterflow drum.
Stansteel is happy to upgrade any aspect and brand of dryer, drum mixer or other rotary device. We have an exceptional team of experts that can analyze, diagnose and recommend solutions for heating, drying, mixing and more.