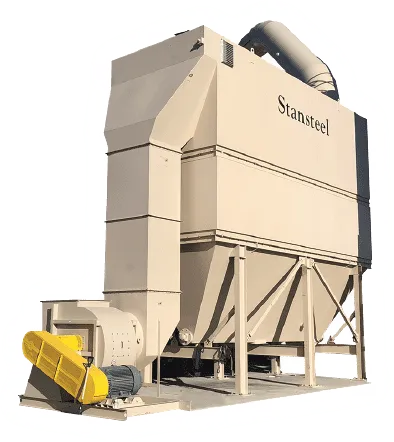 Custom-built baghouses…we have built them for other manufacturers for years.
Now we build them for you.
Why not choose a baghouse that meets the exact requirements of your plant at a reasonable price?
You can't buy a better combination: baghouse, custom ductwork, knockout box, engineering, and service. Stansteel is chosen where codes are most rigidly enforced and where maximum daily production is a basic financial necessity. We've built, rebuilt, and updated hundreds of baghouses, so we know what works best. We build to your exact requirement.
The Stansteel Baghouse has been recognized for many years as a leader in the field from both a rugged construction standpoint, extremely low maintenance and equipped to handle the rigors and varying conditions of all types of hotmix asphalt plants.
As Stansteel engineers and application specialists evaluate the correct baghouse air system/combustion system for a process, there are a number of factors that are considered in the evaluation. All of the critical operating conditions such as elevation, moisture content, amount of dust and fines and other special handling considerations. We look for special fugitive venting and exhausting items such as steam explosion vents from adding RAP to certain areas or even a special handling of additional fillers such as lime or the metering of dust back in the process.
The induced draft fan that is supplied with the baghouse is extremely important based on the operating ranges that must be produced and particularly if both  production rates, moistures, percentage of recycle and other factors fluctuate dramatically. All of these must be taken into consideration for the proper application of the combustion/air system. Often, as customers convert from older style parallel flow drum mixers to more efficient counterflow designs, there is a huge surprise known as dramatic increase in dust grain loading going to the air pollution equipment.
Stansteel often recommends an efficient knockout box arrangement to handle the primary dust in the off gasses of the drum mixer to "knockout" the larger particles and prevent them from carrying over to the baghouse. Then the baghouse is filtering the -200 (74 micron) size particles and even finer particulate matter. The custom design includes evaluating what is the proper air-to-cloth ratio, what is the operating range of temperatures and what has to be handled with the collected dust coming from the baghouse.
Features
Modular Design – Can set up the baghouse arrangement in extremely fast order
Easy bag maintenance by accessing the top of the unit and removing the snapband type bag seal
Heavy duty rugged tubesheet and sidewall housings
One piece galvanized wire cage with built in venturi
Superior bag airflow spacing and all bags are kept a safe distance from sidewalls
Top inspection doors have non-skid checker plate and industrial gasketing
Built in exhaust duct and custom fit inlet ducting for any type application
Heavy duty support structural to provide clearance for airlocks, dust blowers, vane feeders or other devices
Pre-piping assembly, compressed air and diaphragm valves are factory installed and aligned
Exhaust fan system custom sized for specific plant requirements
Accessible service module for housing valves, wiring and easy maintenance
Heavy duty screw conveyor installed in the hopper with drive
Bag fabric type and selection based on the application need for asphalt plants Nomex or Aramid appropriate fibers based on temperature range
We have installed air pollution systems throughout the world and understand the importance of both the environmentally positive function as well as being a critical aspect of the production process.