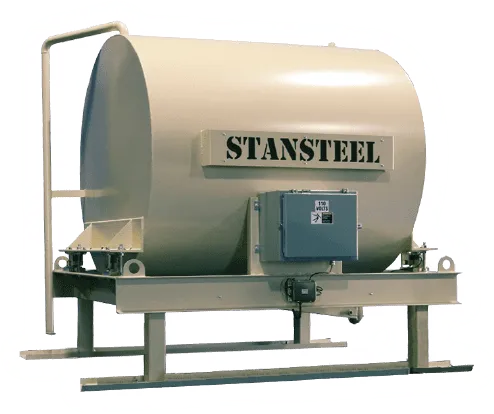 Stansteel's Automatic A.C. Calibration System ensures accuracy and cost savings.
Liquid asphalt can be calibrated and weighed by a separate holding vessel that is supported on multiple load cells and calibrated with a known weight. In order to ensure the accuracy of the liquid asphalt metering system, it is mandatory that the hot mix producer runs a calibration check on their asphalt metering on a periodic basis.
With the Stansteel Automatic A.C. Calibration System using the proper piping and valving, the A.C. can be diverted from the run line on the plant directly to the A.C. calibration tank. The tank is loaded with a specific amount of material and then stopped with a weight registered on the electronic digitizer located in the control house. After the material is weighed, the process can be reversed and pumped back to the AC storage tank so that no waste occurs..
Please note: It is extremely important to highlight that this is a very safe and proven way to avoid having the plant personnel trying to handle cumbersome pipes and high-temperature A.C. that formerly was always accomplished by pumping into a tanker truck and taking the truck to a truck scale to check and measure (weigh) to determine the calibration. In addition, with the extreme value of liquid asphalt now, it's important to calibrate on a more frequent basis in order to ensure accuracy and avoid wasting any extra valuable liquid A.C.
Benefits
• Up to 20 times more accurate than traditional methods
• Quick and Accurate Calibration
• Save on Man Hours
• Improve Safety
• Quick and Easy installation to current system
• Heated Coils
• Available in vertical, horizontal and portable options
• Units in stock and ready to ship